Products
Sale!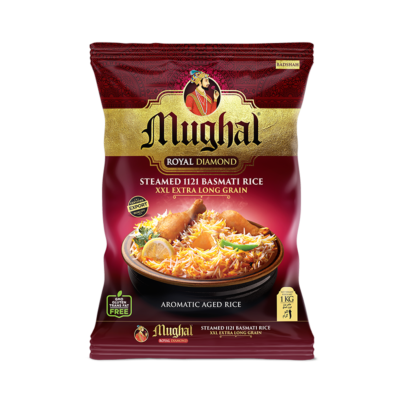 Mughal Rice: Economy Rice, Premium Rice, Rice in Bulk
Mughal Foods is the ultimate choice in quality and indulgence when it comes to rice. Carefully cultivated in Pakistan and specifically known for its superior quality, we bring the flavor and texture you expect from the best restaurants to your kitchen.
Our excellent selection of aromatic rice will help make a memorable meal out of even the simplest recipes. The garden-fresh scents from Basmati, heady fragrances from Kainat 1121, nutty delights from Sela, or rich subtly sweet notes from Toota Chawal – each variety adds its own distinctive flavor profile to dishes for perfect meals every time.
Plus, our unbeatable basmati rice price in Pakistan means there's no reason not to switch to Mughal Foods today!
We are dedicated to providing delicious and authentic rice varieties that will make your meals taste even more exquisite. Whether you're looking for something luxurious or just a basic staple, we've got it all covered in our range of rice categories!
Premium Rice
Our Premium rice is high-quality and perfect for special occasions or when you're looking for an extra something to enhance your meal. Known for its delectable flavor and rich texture, this is the perfect choice for any home cook or professional chef looking to enhance their culinary creations. With gorgeous grain size, rich color, high purity, and enriched flavor, this luxury-grade rice brings a perfect balance of taste and nutrition to your kitchen. We take great care to provide the perfect balance between taste and nutrition so that every grain of our rice contains essential nutrients while offering sumptuous flavors.
Economy Rice
Economy Rice is our everyday all-purpose rice category. It has the same great taste as our other varieties, but comes in a very affordable package, making it ideal for busy households who are on a budget. Its plump grains stay intact during cooking creating perfect fluffy pilafs. This budget option can't be beaten when it comes to finding affordable, delicious rice for your pantry. Enjoy your favorite classic dishes such as pulao or biryani or experiment with new flavors using our economy rice selection.
Bulk Rice
Those looking for mass quantities yet want high-quality rice at low costs should look no further than our bulk rice option. From large gatherings to regular family dinners at home, having enough rice stocked makes mealtime preparation easier! We offer bulk quantities so that you never have to worry about running out of this delightful staple again. We ensure that our rice does not deteriorate in nutritional value or purity during transit or longer periods of storage. You can be assured that when you purchase from us, you're getting top-notch rice with all the nutrients intact!
We take pride in the fact that each variety is processed under strict quality control measures to ensure that you receive only the best rice in Pakistan at all times.
Offering convenience and affordability, ordering from us is quick and easy – simply select your preferred variety of rice online and we will deliver it right to your doorstep. From long-grain Basmati Rice straight from Pakistan to jasmine and sushi varieties from Thailand, we have what you need for any recipe or occasion.
Choose Mughal Foods for convenience and peace of mind in knowing that each batch is rigorously tested for quality, and has an unmatched aroma & price range than any other rice brand in Pakistan.