Order Wheat Flour in Best Price in Pakistan
Products
Sale!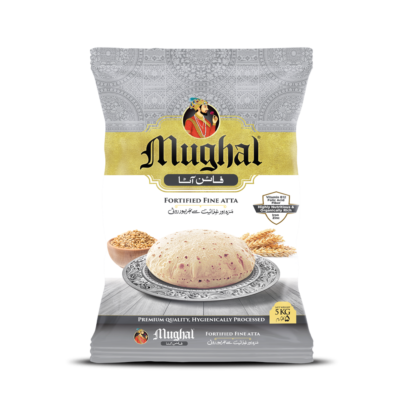 Sale!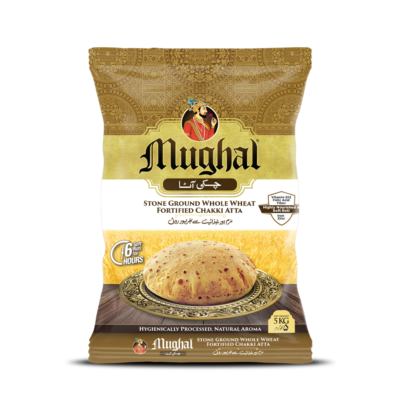 Mughal Wheat Flour, Chakki Atta, Fine Atta
Mughal is a world-renowned brand of rice and wheat flour by Garibsons. Mughal is one of the largest-selling brands of chakki atta and fine atta in reasonable price, in all modern trade outlets in Pakistan as well as online in Pakistan. Mughal flour prices are among the best in Pakistan. Mughal is internationally registered and marketed across 60 countries worldwide. Mughal Wheat Flour top-quality products like chakki atta and fine atta are flour products that have been in demand with the Pakistanis for a long time and that too is available at very reasonable and competitive prices. Mughal Wheat Flour is grown in the Punjab area of Pakistan and is exported to other countries. Mughal wheat flour has both a high protein, as well as gluten content which is popular in the international markets. Due to its high nutritional value and cheap price, it has become very popular among people who want to eat healthy food. Mughal Wheat Flour contains nutrition such as vitamins (notably B vitamins), dietary fiber, and phytochemicals which are essential for good health. Mughal wheat flour dietary fiber helps reduce risk of cardiovascular disease and type 2 diabetes.
Garibsons (Pvt) Ltd which is the parent company of Mughal brand (Foods by Mughal) —was incorporated in 1976 as a family-owned business. Garibsons started its business of Rice and Wheat in 1996. Today Garibsons is 1st in the list of Top Rice Exporters of Pakistan and 11th in Top 100 Exporters of Pakistan.
Mughal wheat flour is ideal for making rotis, breads, pastries, pita breads, flatbreads, pizza crusts—you name it! This high-protein flour is made from the finest wheat in Pakistan. It's rich in vitamins and dietary fiber, which is great for those trying to lose weight or maintain a healthy diet. It also has a low glycemic index, so you won't experience any spikes in blood sugar levels after consuming it.
Mughal wheat flour contains fiber that helps to keep your digestive system healthy by increasing the amount of fiber in your body. This makes you feel full longer after consuming Mughal Wheat Flour. It also reduces the risk of cardiovascular disease by helping to reduce cholesterol levels in the bloodstream.
Try Mughal wheat today!
Mughal wheat flour products Mughal Fine Atta and Mughal Chakki Atta are available online at competitive prices.
Mughal Fine Flour
Mughal is one of the top producers of fine atta (flour). Mughal fine atta is produced by using the best quality machines and the best materials available in Pakistan, so you can enjoy best wheat flour fine atta in best prices. Mughal fine flour (atta) is available to order online in Pakistan as well as in all major stores in Pakistan. You can buy Mughal Fine Atta and Mughal Chakki atta at Macro store, Metro Stores, Hyperstar, Carrfour and you can order fine atta online from Mughal Official Website as well as from Mughal on Daraz and Tazamart.
Buy Mughal Fine Atta online at best price in Pakistan now
Mughal Chakki Atta
Best Price, High Quality, Order Online!
It's time to get healthy. And what better way than with Mughal Whole Wheat Chakki Atta?
We are passionate about the health benefits of whole wheat, and we believe that you should be able to enjoy them without giving up your favorite foods. That's why we make our Chakki Atta from fresh, premium whole wheat grains ground by hand. You can buy chakki atta online from Mughal official website.
The Mughal Whole Wheat Chakki Atta is a delicious, high-quality whole wheat flour that has been created with the highest standards in mind, and will leave you feeling satisfied after every meal.
Our Chakki Atta (flour) is a great source of fiber, protein, and iron, so you can feel good about eating it even when you're not trying to lose weight or keep fit! It also tastes delicious—and it's not just any old wheat flour: it's made from freshly milled whole wheat grains. We include ground wheat flour as well because it helps with texture and flavor.
We offer this product at the best price online, so you can get your hands on it without breaking your bank. The quality is also top-notch, which means that you can be sure that your rotis will remain fresh and soft for a longer period of time.
The best Chakki Atta (flour) is prepared through the traditional stone grinding method. The Mughal Whole Wheat Chakki Atta (flour) is made from premium wheat grains and freshly milled whole wheat flour, ground wheat flour.
Order online today and we'll send you a box of this amazing whole wheat chakki atta straight to your door!